Our Story
Founded with a passion for Cycling, we believe that Bicycles can help change the world.
velofix was founded in 2012 in Vancouver, BC, with a goal to give people more time to do what they love, RIDE! velofix is a Mobile Bike ProShop in a 24-foot Mercedes Sprinter Van. We provide a premium service offering for all types of bikes: Road, Mountain, & Commuter. Our proprietary back end system Velonet handles all business requirements including booking/scheduling, just in time inventory management, customer relations management and payment processing to provide a premium service to all our clients. Our Certified Mechanics use only the best tools and parts available in the industry.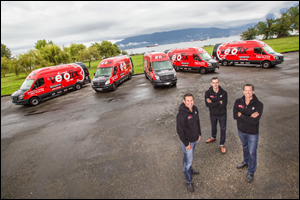 Our Service Promise
velofix is committed to providing the best and most convenient service in the cycling industry. We will achieve this by establishing loyalty and long term relationships with both our clients and suppliers. We will focus on customer service, technology & innovation to allow us to deliver premium service at competitive pricing.
Our Mission
To provide our clients with the most efficient and professional bike service experience in the world.
Our premium level of service will allow our clients to Save Time. Ride More.
---

Franchisee Profile
velofix targets the mid-high level consumer who places high value on their time. Our customers are a part of the growing trend in North America to adopt a healthier lifestyle, not solely for fitness. This includes cycling as a recreation and for transportation.
Simon Whitfield is a Co - Founder & future Franchise Owner. Simon explains why he invested in velofix:
"As a father of two young girls and with a busy work schedule, I immediately understood the value of the velofix business model. I am proud to be a part of this incredible company and to own the Franchise in my home town of Victoria."
- Simon Whitfield
---

Training & Support
Training provided: Training takes place in a Mercedes Sprinter Van & in an office environment for up to 5 days in Vancouver. Franchisees will be awarded after training and mechanical competency is demonstrated in the following areas:
Sprinter Van Operations
Inventory Management
VeloNetTM Online Management System
Sales & Marketing
Product Knowledge
Support offered: velofix offers 'hands-on' support and proven business procedures and systems to assist in managing your business to success. These systems & policies are continually enhanced to provide franchisees with streamlined, relevant, and timely support in a range of areas:
Marketing
Inventory Sourcing
Training
Promotional Material
Operations
Vehicle Procurement
Point of Sale
Network
---

Are We The Right Business For You?
At velofix, we seek to partner with like-minded people who have a strong desire to drive change in the cycling industry.
Qualities We Seek:
Commitment to being hands on in the business.
Passion for cycling.
Thrive in a relationship driven business.
Strong business acumen.
Are You Ready To:
Follow the velofix System.
Work in a physically demanding environment.
Be active in your success & failures.
Get involved with your local cycling community.
velofix franchise owners will be given the tools & training necessary to facilitate a successful operation of the business. Dedication & commitment to the fundamental philosophies & best practices of the velofix brand will be essential to the operation of a velofix franchise day-today. A velofix franchise owner will deliver premium service & be consistent in offering the best possible customer service daily.
Have you always wanted to be your own boss?
Fill Out The Form Today!